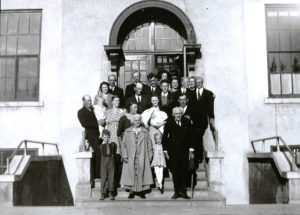 THE SYTSMAS
Photo taken in 1939 on Herbster School Steps.  Pictured above, left to right:
Front Row: Maynard Dejong, Dieuke Elizinga Vander Plaats, Delores Okkonen, Minnie "Henriks" Vander Plaats
Second Row: Uno Okkonen (holding Donna Okkonen), Alice Okkonen, Marie Sytsma, Tina Erickson (holding Glenda Erickson), Jake Vander Plaats
Third Row: Daisy Isaksson, Peter Sytsma, Hugo DeJong, Luke Sytsma, Sjord Dejong
Back Row: Hjalmar Isaksson, Henry VanderPlaats, Gust Erickson, Dorothy Burkland, Bou Dejong
Maritje (Marie) Vander Plaats was born April 18, 1892 and died August 13, 1970. Marie married Peter Lucas Sytsma (Sietsma) from Wommels, Holland on June 1, 1912 in Oosterlittens, Holland. Peter was born on February 4, 1890 and died on July 14, 1939.
Peter was a farmer and worked for many years at Rosenfeldt's farm in Herbster. Marie was a homemaker, loved to knit and crochet and later cooked at the Herbster school for many years. They had three children:
Dieuke (Doris) was born June 24, 1913 (died February 12, 1983) and married John Oscar Erickson in August of 1935. John & Doris owned businesses in Herbster. He also wrestled and boxed, aka "Man Mountain Erickson." See "The Erickson's" for more information on John and Doris. They had two children:
Joane Louise born December 2, 1939
John Owen born May 29, 1943
Lucas (Luke) was born July 18, 1914 and died July 10, 1970. He married Helen Houk in 1940. Luke worked on the railroad for years, for DuPont in Barksdale, and other various jobs. He loved to fish! Helen was a homemaker and librarian. They had four children:
Lewellyn born June 20, 1941
Peter born March 26, 1943
Wendy and Wanda born May 10, 1952
Bruce born August 1, 1956
Tryntje (Tina) was born October 2, 1915 in Herbster and died December 19, 1998. She married Gustav (Gust) Yngve Erickson on August 5, 1937. Gust was born in Kumla, Sweden February 11, 1908 and died October 26, 1985. He arrived in the USA at age 21. See "The Erickson's" for more information on Gust and Tina. They had two children:
Glenda Mae born April 17, 1939
Roland Lee (Rollie) born December 27, 1941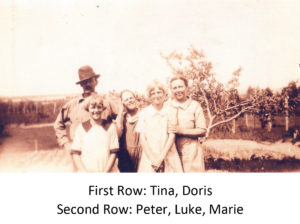 Doris & Tina married brothers, John & Gust Erickson.  Rollie and Glenda Erickson are double cousins to Joane and John Owen Erickson.
Marie's father was Minne "Hendriks" Vander Plaats. He left Holland in 1911 for America because he could own land and farm in Wisconsin. He and his entire family (two sons, three daughters and his wife Dieuke) all immigrated to the United States through Canada. They settled in Herbster in 1912. The F.H. Bartlett Land Company of Chicago had plotted out "Orchard City," or the town of Herbster. Minnie Beeksma was a land agent who recruited in Friesland, Netherlands to bring families to settle in the Northern Wisconsin area.
Minne Vander Plaats was born in Oosterlittens, Holland on July 5, 1858 and died in 1948.
Diuke Elsinga was born October 12, 1864 and died in 1941.
Their children were all born in Holland:
Akke (died at 6 years of age)
Maritje (Marie) was born April 18, 1892 and died August 13, 1970
Boukje (Bou) was born October 1, 1894 and died March 25, 1985
Hendrik (Henry) was born August 23, 1896 and died in 1980
Jacobus (Jake) was born August 18, 1898 and died in July of 1974
Akke (Alice) was born on September 11, 1908
See "VanderPlaats, Minne and Dieuwke" for more information on them.