Lake Superior Boat Launch in Town of Clover
You do not need to use PayPal to pay. PayPal processes our credit/debit cards.
18290 Bark Point Road -- Herbster, WI 54844
Located just five miles from Herbster, Wisconsin, the Town of Clover Bark Bay Launch serves the central South Shore with first class access to Lake Superior and Bark Bay.
Bark Bay is known for its sandy beaches, estuary, great sailing and fishing. Protected by Bark Point and Romans Point, small watercraft can enjoy the crystal clear waters of Lake Superior.
The Town of Clover Boat Launch is located just five minutes away on Bark Point Road in Herbster, Wisconsin. This 1st class launch gives access to Lake Superior via Bark Bay for watercraft, large or small.
Travel out to the Apostle Islands and Sea Caves, or enjoy fishing right in Bark Bay!
Season permits are available at a very reasonable cost. See Permits and Licenses tab for a printable registration form and more information on an Annual Bark Bay Landing and Parking Permit. Or for a daily permit, pay right at the launch.
$5.00 per day or $40.00 per year.
First-Class Boat Launch
Easy Access
Convenient Parking
Located on Bark Bay
Only 5 miles from Herbster
BOAT LAUNCH IMPROVEMENTS
The Friends of the Bark Point Boat Ramp are looking for donations to make needed improvements. One such improvement is the construction of a new safer walkway. Plus, we are looking to improve the boat ramp, to keep sand from filling it in every year. Any monies donated will go into a fund for the Bark Point Boat Landing, for present and future projects.
If you would like to contribute, we invite you to join us as a team in supporting the continued use of the Bark Point Landing. Please make your check payable to the Town of Clover, in the memo area please note "Bark Point Boat Landing." Mail your contribution to the Town of Clover, P.O. Box 94, Herbster, WI 54844.
You can look on this website for one of the improvement projects taking place.
Your contribution is tax deductible. If you have any questions, you can contact us at (715) 774-3780, or one of the Boat Landing Committee members: Mark Pope, Dale Paulson, Jim Reha and Stan Samuels.
Thank you for your consideration with this fundraising effort.
Sincerely,  The Friends of the Bark Point Boat Landing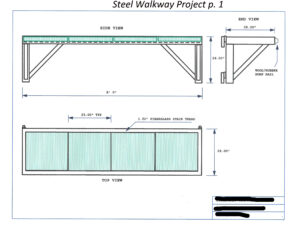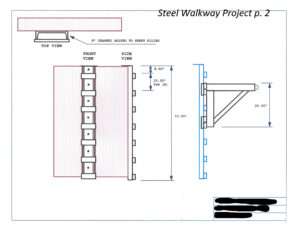 UPDATE:
Thursday, June 3, 2022
Sending the railing for the dock to the powder coating place.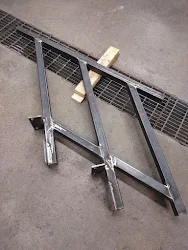 Friday, August 6, 2021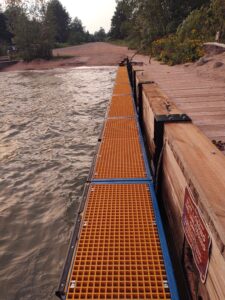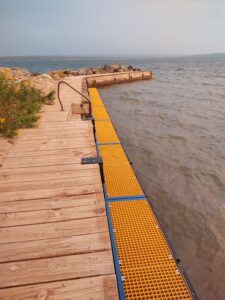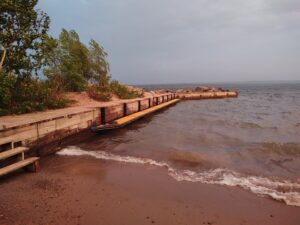 The remainder of the walkway was installed yesterday. Randy Schultz came with his machine to help Jim Reha, Will Wiethoff and Tick Whytsell were all there to help.
Next project is to fix the steps and handrail down to the walkway. Dale Paulson is going to clear a tree that blew over, check the dock over and move the emergency fire sign to a better location.
Jim Reha donated the fence posts and Les Luoma donated the beautiful old hemp rope to block off people parking or driving toward the beach. Tim Herstein, Erik Felt and Will Wiethoff installed the posts and rope.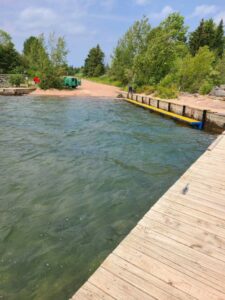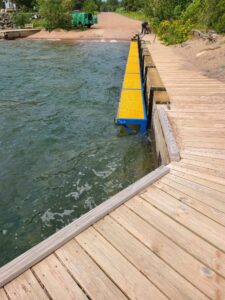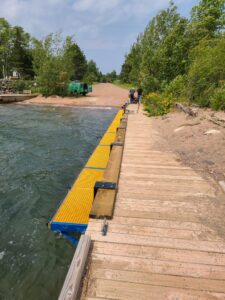 Sunday, August 1, 2021
Project is coming along nicely!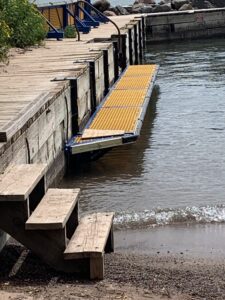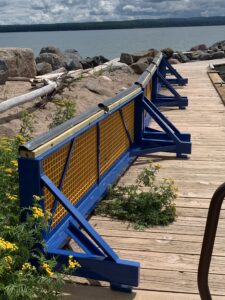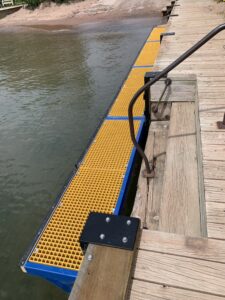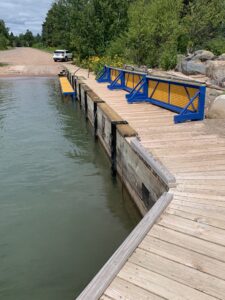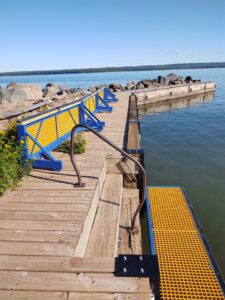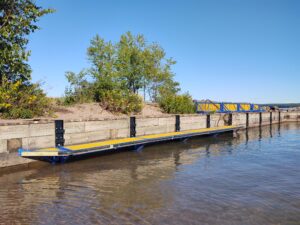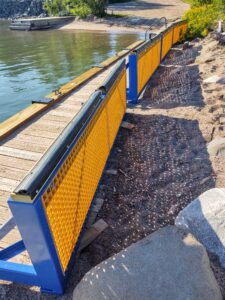 Many thanks to Gail Reha and Dale Paulson who hand shoveled the sand off of the dock so that we can all walk on it again and enjoy it! What a labor of love.
Tuesday, April 27, 2021
More pictures will be added as work progresses so check back. (Photos courtesy of Gail Reha.)

The man in the water with the waders is Dale Paulson and he is marking water depth. A special thanks to David Wilcox who is operating the excavator and Rocky Tribovich who loaned us the excavator. Jim Reha is in the tan Carhartt jacket. Dale Fuller stopped by and has the reflective jacket on and Will Wiethoff is in the dark hoodie.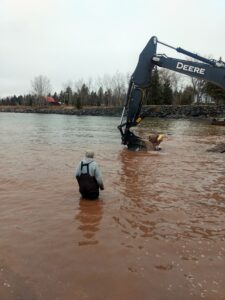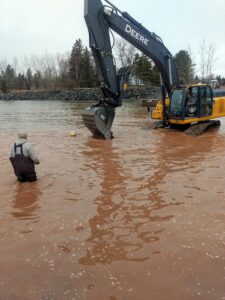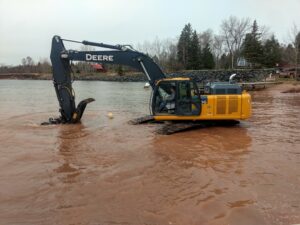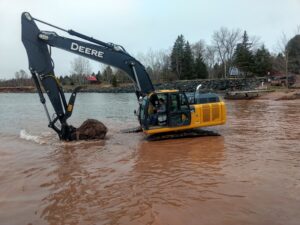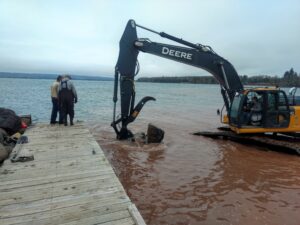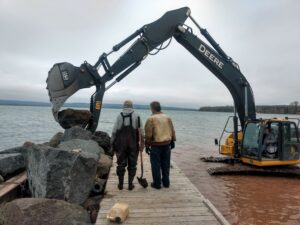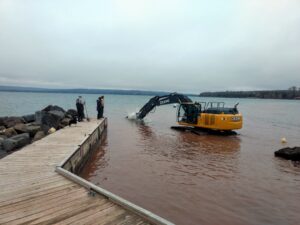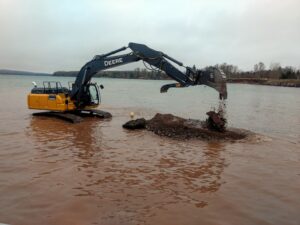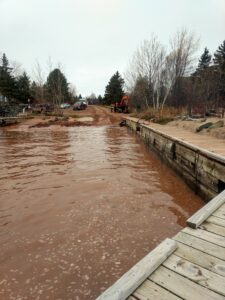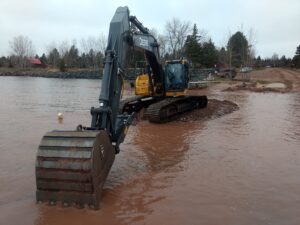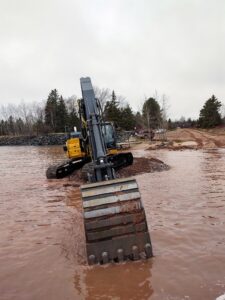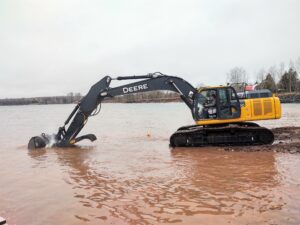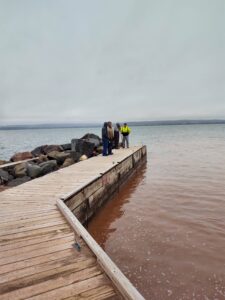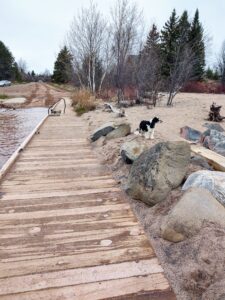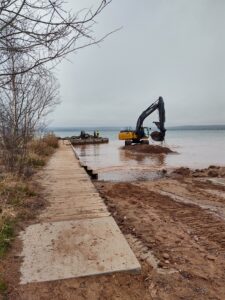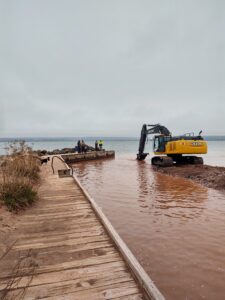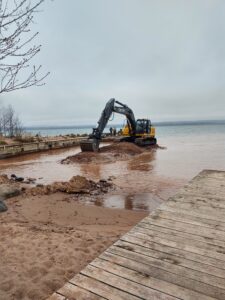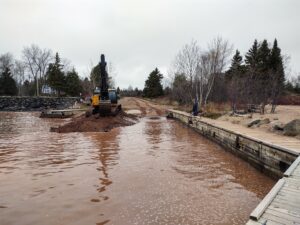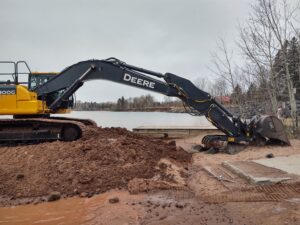 Wednesday, April 28, 2021
Jim Reha and Dale Paulson were there. Tim Herstein pitched in and helped with brush and more dock cleanup. The town crew were running the town trucks and Dale Fuller was helping run the town backhoe. David Wilcox was running the excavator again. (Photos courtesy of Gail Reha.)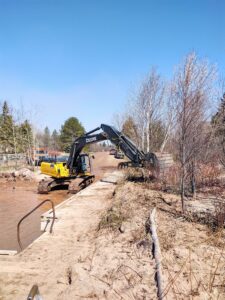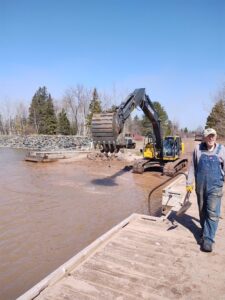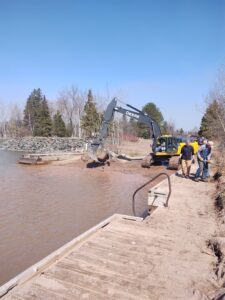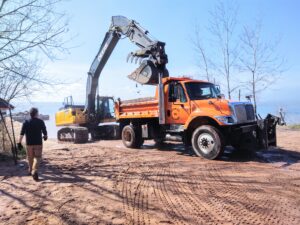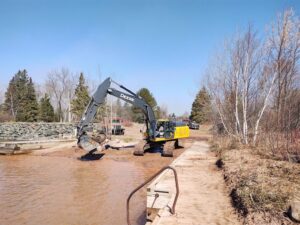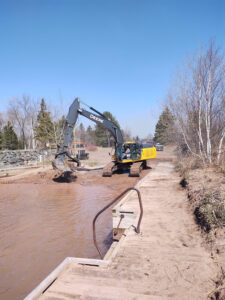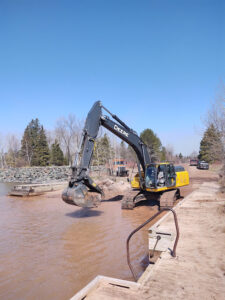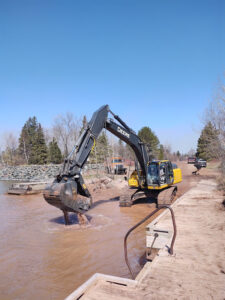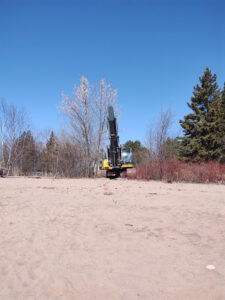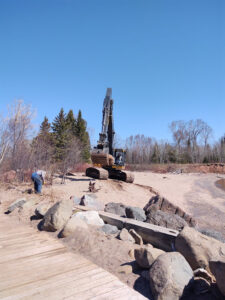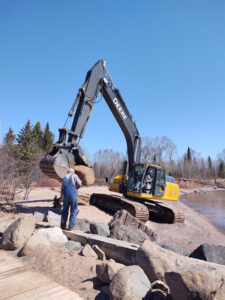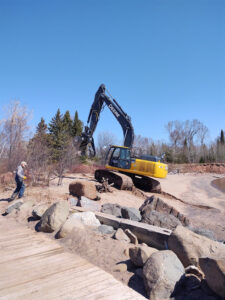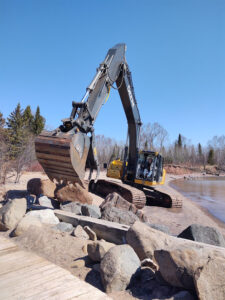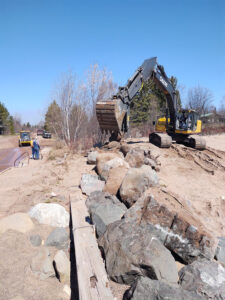 The Following Photos are older.