Larson, William and Violet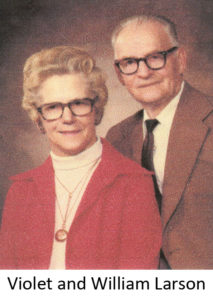 WILLIAM AND VIOLET LARSON
William Larson 1906-1997
Violet (Christenson) Larson 1915-2001
William (Bill) was born on Bark Point in Herbster. His family moved to Cornucopia in 1916. William married Violet in 1940 and adopted her son, Victor Allen Korppas. They resided on Bark River Road. In 1941, they had son, John Andrew Larson. They had another son, Frederick William Larson, in 1943. In 1944, William and Violet moved their family to what is now known as the "Larson Farm" on Bark River Road. Margaret Marie Larson was born in 1946. William and Violet made a living diary farming, They also opened their home for hunters to stay each year during deer season.
In the mid-1950's, Bill's mother, Sophia, and brother, Rudolph, came to live with Bill and Violet. Bill was good with all animals, but was especially fond of horses. He used work horses for much of the field work and was considered to be one of the best teamsters in the area. Venison was a large part of their diet as beef was sold as extra income. Violet enjoyed knitting and crocheting along with helping with chores around the farm. Bill and Violet had many friends in the community which they enjoyed spending time with, mainly playing cards and visiting. They retired from farming in the mid-1970's. Bill and Violet spent much of their retirement time fishing and picking berries together. They also traveled to see family.
Vic and Juanita live in Port Wing, WI and have four children: Cindy, Tori, Darr, and Stormy.
John and Jackie (DeGiacinto) live in Maple Grove, MN and have two children: Kari and Kelly. (John passed away in 2004.)
Fred and Ruth live in Iron River, WI and have one daughter: Vicki.
Margaret and Paul live in Herbster, WI and have three children:  Darin, William, and Pamela.