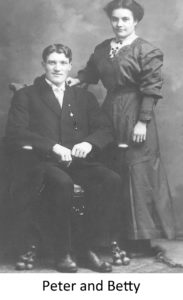 HULTMAN, PETER AND BETTY
Coming to America, Peter Hultman and Betty Erickson arrived separately, each with a hope of a better future, determined to learn a new language and culture, and love their new country. Each one had relatives living in Duluth, Minnesota and Herbster, Wisconsin. They met in Duluth, married and in 1915 moved to Herbster where with the help of relatives and friends, built their new home on Bark Point. They had a few cows, a pig, chickens, and grew a large vegetable garden, and a patch of strawberries. Betty eventually had many large beds of beautiful flowers.
A year later, 1916, their daughter Linnea was born. Pete worked in the woods, cutting pulp. Later he got a job at the Herbster school as a janitor and took great pride in the upkeep of the school and gymnasium. He liked being around young people and often umpired at baseball games.
Another daughter, Carol, was born in 1931. They sold their home on Bark Point in 1944 to Arne and Elsie Kusel, and purchased a home from Olaf and Anna Riipi. It was right next to the gym and very handy for Pete to walk to work.
They both loved to play cards (Pete especially loved Poker), and they belonged to a 500 Card Club. They also played a mean game of Smear!
In his later years, Pete worked in the woods once again. He also began to fish on the Cranberry River. Betty was your typical housewife, cooking, cleaning, and taking care of the family. She liked to crochet and enjoyed weaving rag rugs on her loom. Their long ago dream of a better future came true in Herbster, Wisconsin—a good place to live!