Herbster Community Church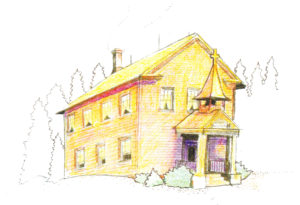 Artwork by Jeff Hagen
HERBSTER COMMUNITY CHURCH

The first Protestant residents of Clover Township either met in homes for religious gatherings or had to travel to the nearby communities for church services, baptisms and Sunday School.
It wasn't until 1949 that the Town of Clover leased the town hall building, previously used for town gatherings, to the founders of the Community Church. On March 27, 1949, a meeting was held to organize the Herbster Community Church. The following was recorded: Meeting called to order, led in prayer by Rev. Chester Haines. The following program was enjoyed by all.
Sentences—Mrs. John Gustafson
Doxology
Hymn—"Evening Prayer"
Scripture—Harvey Smith, Director of Pioneer Church
Solo—Wm. Collins
Prayer—Geo Grether, Pastor of Bayfield Presbyterian Church
Duet—Mrs. Ralph Swanson, Wm. Collins
Sermon—Rev. Marvin Kausler, Pastor of Ashland Presbyterian Church
Hymn—"Break thou the Bread of Life"
Communion—The Bread—W.J. Steele, Pastor of Iron Belt Presbyterian Church
The Wine—Pastor Theo Shepard
Solo—Mrs. Ralph Swanson
Organization of church & reception of members.
A slate of the following Elders & Trustees were presented & accepted:
Elders—Mrs. Carl Erickson
Mr. Sjoerd de Jong
Trustees—Mr. Geo Glasener
Mrs. Mabel Beeksma
Mr. John Erickson
Mr. Carl Erickson
Mr. Onne Beeksma, Jr.
Sec'ty-Treasurer—Mrs. Alice Okkonen
Clerk—Mrs. John Erickson
Sunday School Superintendent—Wm. Collins
Prayer—Rev. Chester L. Haines
Hymn—"Blest be the Tie that Binds"
Benediction—Rev. Theo Shepard
From the notes recorded by Doris Erickson
On April 1, 1952, the Town of Clover sold the town hall property to the Herbster Protestant Church (Presbyterian) for the sum of $1,000. May, 1952 trustees Carl Erickson, John Erickson, Gust Erickson, Onne Beeksma, Mabel Beeksma & Uno Okkonen filed a certificate of incorporation of the Community Protestant Church of Herbster, Wisconsin (Presbyterian) which was confirmed by Wisconsin Statutes on May 17, 1952.
Reverend Theo Shepard was the first pastor. Other pastors who served from 1956 through the 1970's were: Rev. S.W. Gault, Rev. Donald Hicks, Rev. Dean Johnson, Dr. Fotch, Rev. Ellefson, Rev. Garth Gee, Rev. Barry Boyer, and Dr. Leslie Bechtel.
The Herbster Presbyterian Church continued to serve the Protestant community with baptisms, Sunday School classes, vacation Bible school for the youngsters, as well as catechism classes, wedding and funerals. The very active Ladies Aide and membership gave of themselves and their talents to praise the Lord for their blessings from 1949 through 1979. Then the congregation dissolved their relationship with the Presbytery with Pastor Rey Pady and transferred from the Presbytery. Mabel Beeksma was elected clerk, Daisy Isaksson treasurer, Evelyn Howk and Esther Beeksma recorders.
Christian Education—Dorothy Burkland
Deacons—Mabel Beeksma, Clayton Howk, Dorothy Burkland, Dorothy Swenson
Trustees—Jake Beeksma, Doris Erickson, Ed Skogland
The church has continued to serve the community well. Considerable refurbishing and building an addition with a meeting room and restrooms was done in the 1990's. Many descendants of the church pioneers have continued to support and provide loving care and maintenance of our beautiful church.
Important Dates
1916             Building built as Herbster Town Hall
3/24/1949  Herbster Community Church was organized
1949             Leased the Herbster Town Hall
4/1/1952      Herbster Protestant (Presbyterian) Church purchased the Town Hall property
5/17/1952    Filed Certificate of Incorporation State of Wisconsin
8/14/1957    First wedding: Dolores Okkonen and Roy "Bud" Wittwer
1964              Bell given in memory of James & Arwilda Reed
1979              Dissolved relationship with The Presbyterian Church. Became Herbster Community Church
1980              Building refurbished
1990               Addition built
Services, funerals and special events held sporadically
2006              Open for Herbster's Centennial Museum upstairs
2010               Extensive repairs to building
6/19/2011     Services begun anew!!
Summer 2017  Sanctuary renovation with stained glass custom made by Gail Glass and donated                              in memory of her grandmother, Elma Evanow
2018               Small kitchen installed
Today the church is a non-denominational church and holds services every Sunday at 10:30 a.m. with a time of fellowship and snacks afterwards. Sunday School (KIDZ Ministry) is also held during this hour for children 3 years through high school age. There is a weekly men's Bible study that meets at the church. Herbster Community Church also has a Facebook page where the weekly podcasts of the messages are posted. All are welcome!