Forsberg, Charles and Marie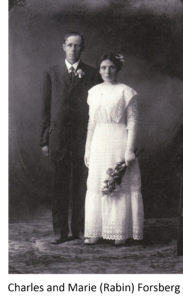 FORSBERG, CHARLES AND MARIE
The (Wiks) Forsbergs were Swede-Finns (Swedish People) living in Finland. Charles was born May 3, 1881 and his wife Marie (Rabin) was born in 1885. They came to the United States on February 13, 1907 and bought 80 acres on Bark Point for $420.00. Charles received naturalization papers on September 5, 1913 to become a U.S. citizen.
They had five daughters: Gladys Marie born on March 3, 1914, Elvina Johanna born June 9, 1915, Aili Hjerdis born August 1916, Singe Marian born July 23, 1919 and May Hildur born May 19, 1922.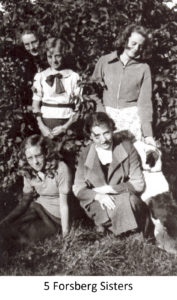 Charles later sold the west half of his 80 acres to his brother John. The land was used to raise apple trees as well as strawberries, raspberries, hay, grain, and pasture for horses and dairy cows.
Gladys loved to write and helped edit the first two school newsletters (The Echo) in 1930 and 1931. Elvina did the artwork including portraits for the newsletter.
In September of 1931, Gladys and Elvina died of polio. Signe also had polio but survived. Two other young people in Herbster also passed away. No one came to the funerals as other families were afraid of contracting the disease. In 1937, the mother Marie died of a stroke. In October of 1947, Aili died from complications of diabetes. Charles lived until June 14, 1964.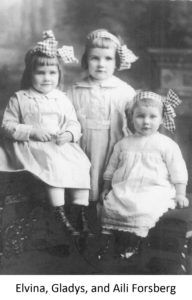 May went to Ashland County Normal to become a teacher. She married Fred Faye on December 26, 1955. He taught at South Shore and later in St. Paul. They had six children. May died on April of 1967 from cancer.