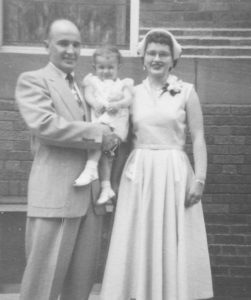 FLEMING, RUEL AND DONNA
Ruel and Donna moved to Herbster in the fall of 1952 with a one-year-old daughter, Kathy. Their son, David, was born in 1954. A second son, Tim, was born in 1956.
Ruel was employed by the South Shore District as an Industrial Arts Teacher and Coach. However, his duties were soon expanded to cover Driver Education, some math and in 1974, to Principal of South Shore Jr.-Sr. High School.
Coaching responsibilities starting in 1952-53 were football, basketball and baseball.
Ruel participated in a number of local organizations—Herbster Volunteer Fire Department, South Shore Ambulance, Lions, Cornie Men's Club, American Legion, Bow Hunters Club, and Bayfield Conservation Congress. He served on many local, county, and state advisory committees.
His wife, Donna, provided a wonderful home life for the whole family.