Erickson, Andrew and Fanny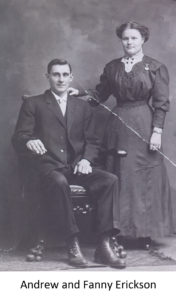 ERICKSON, ANDREW AND FANNY
Andrew Erickson was born in Vaasa, Finland on May 18, 1885. At age nineteen, Andrew came to America on the ship Virginian departing Finland on May 3, 1905. The destination for the Virginian was Duluth, Minnesota.
Fanny Korppas came with her family when she was eight years old. The Korppas family lived on a small farm on the Bark Point Road. She went to school on Bark Point Road until eighth grade. Fanny was confirmed at the Evangelical Lutheran Church in Port Wing on May 15, 1910 by Pastor E.G. Nordin. Andrew met Fanny when she was fifteen years old and said, "That is the girl that I'm going to marry." Andrew and Fanny were married on October 31, 1912 in Port Wing by Pastor Nordin.
Andrew bought twenty acres of land on Bark Point from Fanny's father, Aaron Korppas. He and Fanny built their home there. They had seven children who were all born at home—Bertha, Martha, Alice, Eric, Elmer, Edwin, and Louise. The Erickson's had a farm with a few cows and always a large garden. Andrew also did some fishing on Lake Superior. He was also an expert hunter and kept the family well supplied with venison. Andrew served as a guide during hunting season for a doctor and the doctor's friends from Ashland. He also built a home for W.H. Weakley that later belonged to the Zyrkowski family. He also built a home for his brother, John Erickson, on the Bark Point Road where he grew strawberries for many years. The property now belongs to Dick Mueller and his wife. Andrew brushed roads and built the Nicoletti Road with Peter Nicoletti. He was also a foreman with Matt Leppala when the Herbster log gym was built in 1939 with WPA funds.
Fanny was a hard working housewife, an excellent cook and she canned many jars of fruit, vegetables and venison. Andrew and Fanny's sons, Eric and Elmer both served in World War II. Eric was a sergeant in the Army and Elmer was a motor machinist mate—2nd class in the U.S. Navy. Elmer died at the age of twenty-three on May 3, 1945, at the U.S. naval training school in Princeton, New Jersey where he was to have received officer's training. Bertha Erickson married Harold Krueger. They had one daughter, Sandra. Martha Erickson married Carl Haarstad. They have five children, Carlene, Carl Jr., Laurie, Darlene and Penny. Alice Erickson married Walter Thomas. They had three children, Pat, Terry and Ronnie. Eric Erickson married Betty Bousley. They had seven children, Eric Arnold, Betty Louise, Faye, Eric, Debbie, Timmy and Andrew Aaron. Louise Erickson married Clayton Beckman and they had seven children: Yvonne, Bonnie, Lou, Clayton Lee, Valerie, Rory, Bruce, and Aaron. Fanny died on September 3, 1953 at the age of fifty-nine. Andrew died on July 16, 1967 at eighty-two years of age. Their home on Bark Point still stands. Clayton and Louise Beckman raised their family there.