Buckley, Daniel and Catherine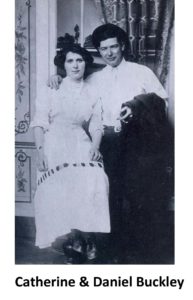 BUCKLEY, DANIEL AND CATHERINE
Daniel and Catherine (Keane) Buckley moved to Herbster from Chicago in March of 1918. Catherine Agnes Keane was born in Cloonfad, Ballyhaunis, County Mayo, Ireland in 1889 and immigrated to Chicago in 1908. Daniel Joseph Buckley was born in Chicago in 1884, the son of Charles Kennedy Buckley and Mary Ryan who had also come from Ireland. Dan and Catherine were married on December 30, 1913 in St. Ambrose Catholic Church in Chicago. Dan and his brother Mike had both worked in Chicago as meat inspectors for the government and then Dan worked for Sears Roebuck. Dan had read about the good farmland in what he had called "God's Country," advertised in Chicago. They left Chicago on the first day of spring and arrived on a train at Lenawee on Friday, March 22, 1918. Mike continued to work in Chicago and later moved to Florida but spent summers in Herbster. Dan and Catherine's first sons Charles and John were born in Chicago and in the next 10 years, four more children were born in Herbster. They were Mary Catherine who was stillborn on August 1, 1918 during their first summer in Herbster, followed by the births of Daniel Jr., Mary and Catherine. Daniel Jr. drowned in the Cranberry River in August of 1936 at the age of 15. He had been at Catechism classes at the church in Herbster and decided to stop for a swim on his way home.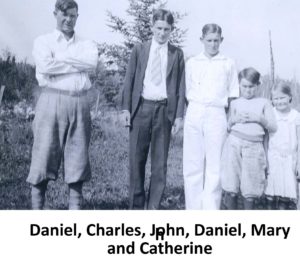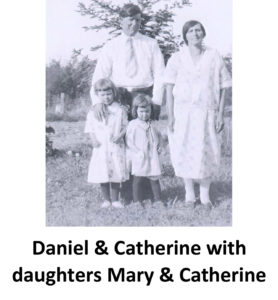 Dan and Catherine farmed, having cows, an orchard, and a large vegetable garden. Dan was an avid writer and kept a journal with the weather, what he had planted, and the goings on in Herbster. Dan and Catherine were members of the St. Frances Church in Herbster and donated much of the used lumber to build the church. Dan was active in local, county, and state politics often inviting political officials to stay on the farm. He had served terms as a constable and Fire Marshall. He was a devoted reader, listened to his Atwater Kent radio, and wrote the Herbster News for the Washburn Times. He also served as Postmaster and as a bus driver. Dan owned and operated a bar, now known as Tracy's, then rented it for many years to Bill Luttman until it was sold following his death in 1965 at the age of 80. Catherine had preceded Dan in death in 1963.
Dan and Catherine's children all remained within a four-hour drive of Herbster. Charlie and his wife lived in Superior, Wisconsin, and John married the former Delia Bruneau and moved to Minneapolis. They had nine children. Mary married Edwin Beckman and lived in Port Wing where they raised three children. Catherine married Herman Larson from Cornucopia and they raised their five daughters in Washburn. Mary is the last surviving child of Dan and Catherine's children, and currently lives in Iron River. The family homestead, located at the end of Buckley Road, has always remained in the family and is now owned by Jean Larson, daughter of Catherine and Peter Spooner.