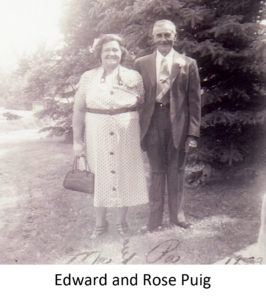 EDWARD AND ROSE PUIG

THE EARLY YEARS
Edward Solo Puig, along with his brother Frank, sailed from Argentona, Spain to New York City around 1890. There, they were taken in by a man who fed and housed them in return for hard work. Feeling as if they were captive labor, they ran away. They drifted around to places unknown during this period in their lives. Edward was in Kalamazoo, Michigan at one time and Frank went to San Francisco. There he died in a terrible flu epidemic.
Edward married Rose Kinterra in New York. In 1907 their oldest son Edward was born. From New York, they moved to Chicago where they had three more children; a daughter and two sons. The daughter died while still an infant and is buried in the Evergreen cemetery in Chicago. Frank was born in 1908 and Henry was born in 1911. Rose Kinterra Puig died in 1917. After she died, Edward had housekeepers for a time and then on June 9, 1918, he married Elizabeth Esther Gackowski. While living in Chicago, they had two children; Vincent, born in 1919 and Rose, born in 1920.
Edward was a baker by trade. Because of his growing family, he wanted to move to the country. He chose Orchard Valley (Herbster) because of the advertising he saw by the Bartlett Real Estate Company. Bartlett had bought Orchard Valley and then would bring people to the area on the train and put them up in the hotel. There they would be taken out to Orchard Valley where he would sell them wild cut-over land. Except for the Finnish people and the Hollanders, almost everyone there was from Chicago. With no experience to guide Edward in his new endeavor, he got off to a poor start. Because of bad advice, he bought (mostly at auction) equipment he could never use. In May of 1921, Edward shipped his belongings and a team of horses by train to Lenawee station. There the family stayed a few days at the hotel in Herbster. Edward then rented a cabin from the Uedelhofens in the Cranberry Valley in Herbster and the family lived there while he cleared enough land to erect a large army pyramid tent to live in. The family lived one summer in the tent while they built a log house near the Cranberry River. They lived there until around 1930 when their new house was built. Edward worked hard as did his whole family. They cleared the land by hand. They raised strawberries, onions and cucumbers to sell. He also worked for the W.P.A at the same time. Later he went into the logging business until he retired. Edward and Elizabeth had eight more children while living in Herbster. Bernard was born in 1922, Ernest in 1923, Arthur 1926, Leo in 1928, Raymond in 1929, Alvina in 1931, Alice in 1932 and Mary 1935.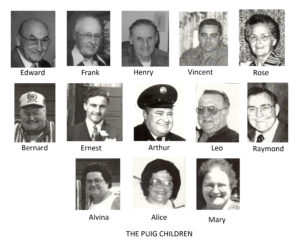 On November 7, 1961 Elizabeth sold the farm to Dick Hollatz, her nephew from Chicago and on January 12, 1994, Dick sold the farm to Kim Murphy who lives there at present. Both Edward and Elizabeth died in St. Paul, Minnesota while with their daughter Alice. Edward died on July 28, 1961, and Elizabeth died on September 3, 1971. They are buried in the Herbster Cemetery.