Niemala, John and Katherine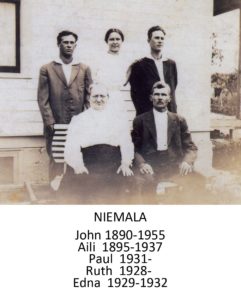 JOHN AND KATHERINE NIEMALA

Herbster is an actual town on the south shore of Lake Superior has that name. I know because I used to live there. It was a place where we played on the beach, climbed on the rocks, fished in the creeks and sloughs; we even found a family of eagles living in a weathered pine tree on the lake shore.
My family came to Herbster from Finland, grandparents in the 1890's, father in 1913. Grandfather Charles Kauppi was a captain on a sailing ship who left the ocean when sail turned to steam. He lived in Ely, Minnesota and then settled on Bark Island near Herbster. He farmed, fished, and held various positions in local government. His wife, Elizabeth, served as the local midwife in Herbster and Bark Point. My Father, John Niemela, came to America from a town Named Yli-li in western central Finland. He farmed, logged, fished, painted houses, and served in the U.S. Army during the First World War. His unit was the125th infantry regiment, 32nd division which saw action in the following offensives: Alsace Sector, Aisne-Marne, Oise-Aisne, Meuse-Argonne, and the Army of Occupation. He was Honorably Discharged on May 21st, 1919.
John married Aili Katherine Kauppi on December 31, 1925. They settled on the Kauppi farm until 1938. John and Aili had four children while they lived at Bark Point; their names were: Wilfred Allen, Edna Marian, Ruth Elizabeth, and Paul Willard. Wilfred lived only two weeks after he was born, Edna died from meningitis in her third year, Ruth and I still survive.
Dad decided to move back to Finland in 1938. We took a train from Ashland to New York, and then boarded the ship, Queen Mary, which took us to England. We took a smaller ship, Aallotar, to Helsinki. We stayed at Uncle Konrad's home for almost two years. During that time, we got acquainted with our cousins: Antti, Pavvo, Raakel, and Aili. We got along well, learned to speak Finn, taught each other words and songs, went fishing, swimming, skiing, sledding, and had lots of fun. In 1939, the second World War began with the German invasion of Poland. Dad decided that he had to get his children back to America so that they would not be trapped in Finland during the war. To accomplish this, he had to come to America and raise money from donations and loans from the U.S. Government. When this was done, he arranged passage for Ruth and I on a Norwegian ship, the Bergensfiord, which we boarded in Oslo.
Nine or ten days later we arrived in New York where we were met by the congressman from our district in Wisconsin. We stayed at his house a couple of days, then got on a train to Ashland where Dad was waiting to meet us. Back in Herbster, we stayed at the Kauppi farm for a couple of months then moved to the big house on old highway 13 that was owned by Pete Soronen. Dad and Pete bought some wooded land south of Herbster where they logged hardwood trees for a year or so, then sold the land. While they were logging, I stayed at the lumber camp, Ruth went to work for Wolterstorff's at the Klienhans farm. Ruth finished high school at Port Wing; I went to the Herbster school through the 8th grade, and then finished high school in Hibbing, Minnesota. This was pretty much the period when our family broke up; Ruth moved to Minnesota, then North Dakota, and then California. I went from Herbster to Minnesota, Alabama, Milwaukee, Texas, and South Carolina.
So this is about Herbster. There is still a part of me that belongs there. I can stand on the beach and feel an October wind blowing off the lake and it doesn't make me cold, it feels familiar. A drive on the roads around Herbster shows us some of the same things we saw here when we were children. Yes, a lot of things have changed in Herbster, and though you can make a home wherever you live, part of home is still a thousand miles away on the shore of Lake Superior.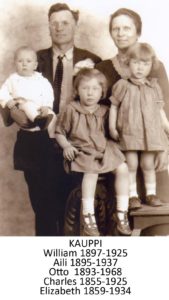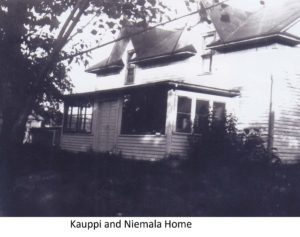 Written by: Paul W. Niemala, June 5, 2005