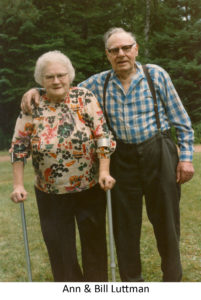 WILLIAM AND ANN LUTTMAN
William Luttman came to the U.S. sometime in the late 1920's from northern Germany. He was born in 1903. He lived and worked for a while in Chicago and then bought land sight unseen in Northern Wisconsin near a town called Herbster. Around this time, he went back to Germany to get his intended wife, then Ann Buentjen. She was born in 1906.
They built a house on 40 acres a little over a mile east of Herbster on State Highway 13. They cleared land and grew a garden. In those days, summer was a time for growing food that was needed to survive the winter. Vegetables were canned and potatoes, carrots, etc, were kept in the cellar. Venison was poached to fill in the diet. In the off season, Bill logged and during the depression, he worked at a WPA camp. He was known to the locals as "Bill" but known jokingly to say: "Don't call me Bill; a duck picks its ass with its bill."
In 1932, Bill and Ann had a son Erwin Walter. Later, for some unknown reason, the name was switched to Walter Erwin, and then to this day is known as Wally. In 1937, they had a daughter: Elizabeth Ann. Better known as Betty.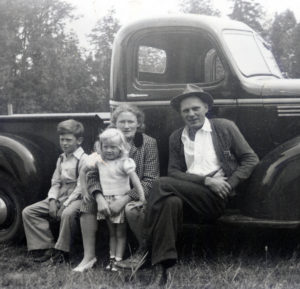 Eventually, quite a few acres of land were cleared. The soil was sandy and the main crop for many years was strawberries and beans. In 1941, they got a new pick-up truck.  A "doodlebug" tractor was made out of the family's 1927 Chevy and was used to pull a handheld cultivator to weed between the strawberry rows. Wally learned to drive this "tractor" while Bill walked behind guiding the cultivator. Wally was probably 12 years old at this time. There was a lot of cussing when the driver would turn too soon at the end of a strawberry row resulting in a struggle with the cultivator and some torn out strawberry plants. There was always a lot of hard work on the farm, hoeing and weeding the garden and strawberries. Then cutting firewood and cutting hay among other tasks.
Sometimes a deer would be found eating the plants. But not for long. Periodically there would be a night run to some field with a gun and light to get a supply of venison.  Money was short and venison was a staple. It was canned and made into sausage. Some years, a pig was grown and fed slop made out of leftovers. Periodically there was a cow and always chickens. Sunday was fried chicken day and Wally would have to catch one and take it to the chopping block. One day the haystack started on fire. Could have burned down the garage but didn't. Turns out Betty was playing matches.
Growing strawberries was quite successful for a number of years.   A crew of strawberry pickers was hired for several weeks every summer. Some came from a distance and would camp. During the off season, Bill would do odd jobs. For many years, in the fall during herring season, he worked as "Shed Boss" at the green shed at the dock in Cornucopia. There he supervised the dressing and salting of herring and would punch your card with the completion of each keg. In the winter, Bill would cut pulp wood.  There was a small Cat-10 tractor for skidding out the logs which were piled into a long pile in the field.
In 1954, Bill and Ann bought a tavern in Herbster. It was called "Bill & Ann's," what else? Betty was completing High School. Wally was in the army. The tavern was the same building as is "Tracy's By the Lake," in now (2006). This tavern was unique because it had two moose heads enclosed in glass mounted on the front façade. They had been installed by a previous owner named Jessie James Lacy. The moose heads were in a state of decay and were torn down. This building had been a post office in some time earlier. The tavern was usually a lively place. Bill made his famous hamburgers which are still talked about to this day. Bill often talked about the "dancing girls" up in the attic of the old building, but if anybody saw them, it was only him. Many regular visitors made their way to Herbster from southern Wisconsin, Illinois and Minnesota during the summer and during the fall hunting season. The locals included a number of interesting "lumberjacks." Ann used to tell a story about a drunken lumberjack's wife who threw a shoe at her when she was being kicked out.  Betty got married and lived in Michigan. Wally in California.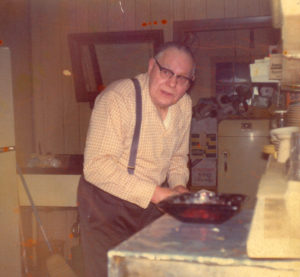 Sometime in the late 1950s, the Luttman's house burned down. A new one was rebuilt over the old basement. This house stood where the famous Luoma Lodge stands now.  Ann's brother, Fritz came from Germany, also about the time Ann and Bill came over.  He stayed at the house with them off and on, and worked around Herbster for some time. Later he worked as a cooper in Chicago but came back to live in Herbster when he retired. He leased 10 acres of Bill and Ann's original 40 acres on Highway 13 across from Cemetery Road, and set up a home in one of the old strawberry fields.
Bill and Ann had worked the tavern for about 30 years. Bill died in January 1985. It was a cold day when he was buried in the Herbster cemetery with a wind blowing through the gravestones. He managed the tavern until just a couple of days before he died. He died of stomach ulcers, a problem, which could be easily cured today. Ann died several years later. She was somewhat crippled in the latter part of her life. The physical stress of farm work took its toll. Hip replacement was not as developed or affordable then as it is now. She died in 1988. Fritz died in 1994.
Betty is married and lives in Ruidoso, New Mexico. Wally lives where Fritz used to live.