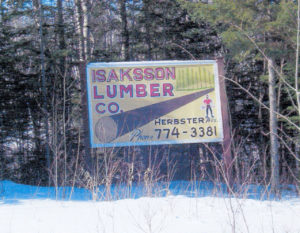 ISAKSSON LUMBER
Timber, sawmills and lumber have been in the Isaksson family for several generations. Isak Isaksson lived in Tyndero, Sweden, the district of Sweden that is an historic saw milling area. He worked as a lumber scaler. It was said he could scale a load of lumber quickly in his mind.
The first of the four boys and two girls born to Isak and Marie was Alfred, born on July 1, 1886. He continued working at the sawmill and at their farm until he was 27. He served one year in the King of Sweden's army.
In 1913, Alfred emigrated from his homeland to Winnipeg, Canada. He found work near Rainy Lake, building a timber bridge, moving to Aitkin, Minnesota, to Duluth and then to Chicago. Although he was a Swedish citizen, he was asked to join in WWII. He declined and instead built barracks at Camp Grant so he was not drafted.
While he was living in Chicago, he met Robert Bartlett of Bartlett Realty and purchased land in the Town of Clover.
In order to earn enough to build a house, he worked for Marshall Wells Hardware in Duluth. He lived at a boarding house where he met Esther Olson. They became married in 1918. He took barber training in Minneapolis, but it did not appeal to him, so he also took training in architecture and woodworking. This he took happily to.
Esther and Alfred had their first son, Albert, born in Duluth on February 5, 1919. They moved to Herbster, briefly living in the Cornell House. Alfred built a small shack for his family to stay in while he built a larger, nicer house, with one room upstairs. Axel was born in this small tarpaper shack in April 1920. Esther gave birth to all her children with the help of a midwife, Mrs. Elizabeth Kauppi.
In 1924, he had an opportunity to buy a sawmill from Joe Tardiff. He financed through a bank in Washburn, and Isaksson Lumber was born. Alfred sawed wood for his neighbors, also logged and kept a stock of lumber for sale.
When the boys were about 10, Alfred built a new house, larger with three rooms for his children. It showed his increasing understanding of construction. Alfred enjoyed helping builders with construction problems. The Herbster Gym was built with logs he sawed and planed with blades he designed.
During the years, many of the local people worked for Isaksson's Lumber. Starting at age 6, the sons worked at the sawmill and logging. After finishing school, they worked full time at the sawmill.
When WWII came, Axel volunteered in the Army, Albert in the Navy, LeRoy joined the Signal Corps but was struck down with tuberculosis and spent much of the war in a sanitarium in Bayfield. Although Gus was exempt due to the "Sullivan Act" which was enacted to prevent one family from losing all of their sons, he volunteered for Signal Corps and because he spoke Swedish, he was recruited to OSS.
Albert was a First Machinist Mate, Axel a staff sergeant, a fighter plane repair crew mechanic chief, Gus a radio operator with the French Resistance. After the war, Albert and Axel came to work with their father, both LeRoy and Gus went to the University of Wisconsin to get their degrees, and Inez went to teacher's college in Superior to become a teacher. She married Floyd, an accountant who invested in many businesses in Wisconsin and Florida. He is an entrepreneur.
Around 1960, Alfred retired, and Albert and Axel ran the business for forty years. The pulp market figured strongly into the business. There were large crews that cut and peeled pulp in the spring and early summer. Albert and Axel each had crews and cut trees for peelers; many other peelers shipped pulp through them. In the 1970's, the industry built chipping plants that accepted whole unpeeled trees. Skidders and large Barko loaders were more the part of the aspen pulp business and while semis hauled long pole length trees. The pulp market includes many species including spruce, which was very popular in the middle of the 20th century. Anyone who peeled pulp was very familiar with mosquitoes and 6/12 insect repellent. Pulp logging was done in the winter when the ground was frozen making it easier to haul over soft ground. In the 1980's and later, pole length popularity declined, partly due to the issue of safety on the roads and 8' lengths came back. Both Axel and Albert were sawyers at various times. Axel in the 1950's, and then later when they bought the Charley Teschner's mill, they sawed white pine, red pine, birch, ash, oak and maple in smaller amounts than the pine at the mill.
We have been very lucky to have many good employees over the years. In 1960, Frank Puig was the sawyer, Louis Belanger in the 1980's and Rick Glau in the 1990's.
In January 2000, Albert died after a brave struggle with cancer. Paul is operating Albert's half of the business. Axel worked until semi-retiring in 2002-2003. Leonard is operating Axel's half.
We thank all our loyal customers and look forward to serving our community during the twenty-first century.