Isaksson, Hjalmar and Daisy Mary
 ISAKSSON, HJALMAR AND DAISY MARY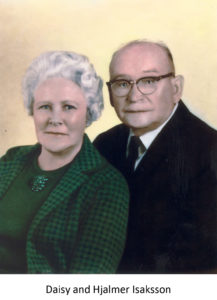 Karl Hjalmar Isaksson (1898-1992) and Daisy Mary (De Jong) Isaksson (1914-2005) were married in Herbster February 29, 1939.
Hjalmar left Sweden when he was 15 years old, on a three (3) masted whaling ship. He sailed all over the world on freighters, with the U.S. Merchant Marines in World War I, and on ore carriers on the Great Lakes. He spent some time in New York where he tried his hand at boxing and wrestling. He traveled across the United States to visit his brother, Frank, in California and back to Herbster where he decided to settle while visiting his brother, Alfred, who had started a lumber mill there.
Daisy, whose family came from Holland via Canada, was born on a farm along the Cranberry River. She lived with her parents, Sjoerd and Boujke (Vander Plaats) DeJong, her sister Dorothy, and brothers Hugo and Maynard. Daisy frequently visited her grandparents Mina and Juka Vander Plaats who lived on a farm along Bark River Road. Daisy grew up helping around the house, learning homemaking skills, taking care of the chickens and often talked of horse, Dick. As a young woman, Daisy spent some time in Superior going to school for the deaf where she learned to read lips. It was shortly after that she met Hjalmar Isaksson.
Hjalmar and Daisy raised their three sons, Stewart, Edwin and Glen in Herbster except for a five-year period when the moved to Tal Moon, MN to open and run a restaurant. Living in Herbster, Hjalmar spent many months away from home working on the ore boats while Daisy, a homemaker, took care of their children, crocheted, knitted, tended her flower garden and baked cookies for her children and grandchildren, friends and neighbors will always remember. The boys tended the family vegetable garden, and went to school. They also peeled pulp, picked strawberries and apples, helped neighboring farmers and worked in the Cornucopia Green shed during the herring run to make extra money for the family.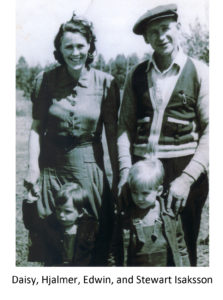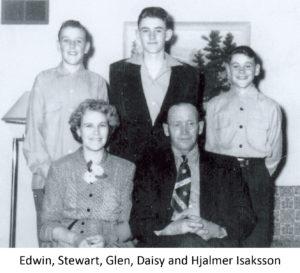 Today (2006) Hjalmar and Daisy have left us, but their sons, Stewart (Nancy), Edwin (Arlene Nicoletti) and Glen (Sheryl) have all retired to their hometown, the place where they learned family values, being part of a community and the happy memories of growing up in Herbster.