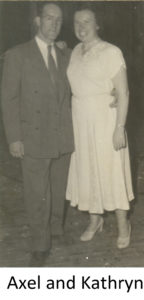 ISAKSSON, AXEL & KATHRYN
Written by Leonard Isaksson with the help of Sharon, LeRoy and Axel.
My dad, Axel, was the second child of Alfred and Esther Isaksson. He was born on April 28, 1920.
When he was a baby, his great grandfather, Axel Larson, for whom he was named after said, "This boy will do many things," after he saw him. Perhaps Dad was as active as a baby as he has always been. His mom was a good cook using a pinch of this and a pinch of that. She baked a lot of bread, one of my Dad's favorites to this day.
Kathryn Burnett was born on July 11, 1919 to Archie and Alma Burnett. She grew up on a dairy farm in Garden Valley township with her older sister Marie. They walked a mile to school in nearby North Branch, a one room schoolhouse where her mother taught. Kathryn graduated from Alma Center High School as a valedictorian of her class at the age of 16. She went to UW Eau Claire, then transferred to UW Madison where she excelled in Home Economics and Journalism. She worked at the REA News where she was women's and children's editor. She wrote many animal stories for children. She worked at the Farmer's Union Herald. In World War II, she was a reporter at the Duluth News Tribune, covering the Superior beat. After the war, her position was given to a returning serviceman. She briefly worked at a camp near Rhinelander. She then worked as a Bayfield County 4-H agent from 1949 until 1952.
Mom loved to go dancing with her friend Harriet Sorvald and one night they came to Herbster gym for a dance. Since Dad was taking admission at the door, Harriet took the opportunity and introduced him to her friend. Axel asked Kathryn to go over to Cornucopia for coffee after the dance and they began to court. They were married in June of 1952 on Flag Day. In July, I was born. "Axel was flying," Kathryn wrote. For the first six months, they lived in the little white house at the foot of Orchard Hill (now called Cemetery Road) where the road to the cemetery and Hwy. 13 meet. Dad said, "When the wind blew, the tablecloth would move," with good ventilation. They lived in the Pike house for over a year and then with the help of Alfred Isaksson, Bill Beeksma and Alfred Korhonen, they built a new house. It was ready by the time my sister, Sharon, was born in October of 1955. Gail was born in 1965 when Mom was 46. The birth of both daughters was anticipated with great joy.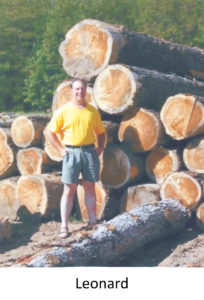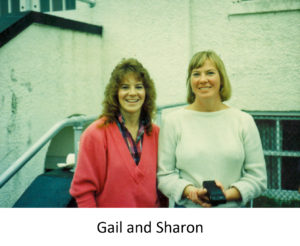 In the summer, the family would pick all kinds of berries. They all loved them with ice cream and loved going on picnics.
Dad worked long hours in the logging and lumber business. He often was the one who turned cant hook as his father sawed while Albert and LeRoy piled lumber. There was a lot of bull work in the sawmill business in the earlier days, not having loaders at hand to move the logs along so easily. The chains for moving sawdust were not there. All was done by hand raking and moving it.
Mom organized and oversaw the Harvest Supper at the Herbster School for many years. People still remember the rolls she made. She also was the greeter and park attendant at the Herbster Campground for many years.
Dad had his own gravel truck in the 50's and 60's, his own business as well at the lumber company and owned his own gravel/sand pit. Albert had the adjoining property and the two shared this little business also. Many of the road projects nearby have sand and gravel from the pit for their base and topping.
Dad was good at driving trucks and equipment, like bulldozers. He was able to build good roads in the woods with good drainage. He ran loader truck for hauling pulp and logs for sawmills.
Mom delivered lumber with her two oldest children driving a small truck for many years.
Mom died in 1999, two weeks after her 80th birthday.