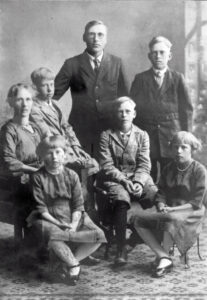 HENRY AND SOPHIA HILL
Sophia, Elma, Theodore, Henry, Albert, Gerhardt & Eva
As provided by Iva Morelli (daughter of Elma Hill & Virgil Glass), per interview on 26 August 2014
Henry Hill was originally named Heikki Huhtamaki (Huhtamaki means "steep hill" in Finnish), and was born in Finland. He changed his name to Henry Hill, the English translation of his name, when he arrived in the U.S. with his bride, Sofia Leppala. They met in Seinajoki where Sofia grew up and they were married at the Lutheran church there.
Henry Hill's wife Sofia's maiden name was Leppala (full name –Maria Sofia Leppala). She came from Seinajoki, Finland after her brothers Herman and Matt Leppala. Herman changed his surname to Luoma to avoid confusion in a small town. Luoma was the name of the river that ran through the family's farm in Seinajoki. They had a large farm in Finland and when each child married, they received a portion of the farm. The two brothers decided to come to America first and asked their dad for a ticket instead of their portion of the farm. Dad agreed and they came. They wrote often to Sofia about the wonderful place America was and how it looked much like Finland but there were more opportunities. So when Sofia and Heikki were married, she also asked for a ticket to America and they both came. The Leppalas had a large homestead in Seinajoki, Finland where they raised horses and cattle. Seinajoki means "walled river" since the Finns had made a dam in the river in order to run a rye mill facility by a water-powered mill.
The Hills lived in Cornucopia prior to moving onto the farm in Herbster. Albert was born on Bark Point were there used to be a town with a post office. Then the family moved to Michigan were Theodore (Ted) and Gerhardt were born. Eva and Elma were born in Cornucopia at home. Gerhardt and Elma were redheads.
Henry worked grading roads (he was called a patrolman) with a horse-drawn grader (one of the horse's name was Billy) and worked on building the farm structures in Herbster on weekends as the family would go to Herbster for the weekend. The first structure built was the small 14' x 14' house, which the family moved into while the large house was being constructed.
The sauna and barn were the next structures completed after the small house. The small house was completed circa 1914, and the large house circa 1919. The front room of the sauna house was decorated like a small sitting room and was used for changing clothes. The concrete basins beside the sauna were used to keep milk cans cool. Water from the artesian well flowed over the cans until they could be picked up by the truck.
The barn was built with the assistance of the whole community.
The family grew hay and strawberries, and raised milk and beef cows. Sofia was an avid wool and thread spinner and weaver, making woolen rugs on a loom in the small house. She also was an excellent seamstress and made all of family's clothes. The room above the kitchen was unfinished and served as her sewing room. Everyone in the family was extremely resourceful. In the evenings, the men would sit and read by the kerosene lamps in the house and the women would do hand sewing. Henry loved to read and really wanted one of his children to be a teacher—the reason Elma went to school to do so. She was an avid reader as well and so wished she could read in the evenings with the men instead of doing hand sewing. However, she turned out to be a great seamstress as well as her sister, Eva.
The men would get up early and work the farm and then they would come in about 9:00-10:00 a.m. for breakfast where Sofia and the girls made a huge breakfast with pork chops, eggs, etc. She also started making farmer bread for them so when they came in for breakfast, they would have hot homemade bread. Farmer bread was her bread recipe that she only let rise once and then patted it down on a cookie sheet in a round shape and baked it. So delicious!
The downstairs bathroom was Albert's bedroom, Gerhardt and Ted lived in the upstairs room facing the driveway, and the upstairs bathroom was Eva and Elma's room (across from Gerhardt and Ted's room). Henry and Sofia's room was downstairs, facing the highway. The landing upstairs was used for guests to sleep over.
The pond was installed by Ted Hill circa ____. (I'm thinking it was somewhere in the 1970s since he put it in when we lived here (1970-1975). He raised minnows and other fish in the pond.
In the kitchen, the large table was originally by the window where the sink is now. All cooking was done on a large wood-burning cook-stove, which also provided all heat for the house. Sofia also kept a butter churn in the kitchen and in warmer weather would churn the butter on the porch. Elma went to work in Chicago after school at the University of Superior Wisconsin and saved money to buy her mother a non-wood cookstove, which might have been installed in the late 1920s. Elma lived with Bud Grant's family in Superior when she went to the University of Wisconsin and took care of Bud as his nanny. This helped her through college since they provided room and board for her. Bud went on to be the head football coach of the Minnesota Vikings for many years.
Daughter Elma Hill got her degree in teaching and then moved to Chicago and married Virgil Glass. Albert became an Accountant and worked in Superior, WI. He married Elizabeth and they had two children: Mary and Mark. Ted Hill resided on the farm throughout his life and worked as a trapper/hunter and raised strawberries. Gerhardt went to UWS where he graduated with his degree in surveying. Eva stayed at home with her mother until she married Ed Puig of Herbster. They had two children: Terry and Cheri.
Albert moved back to Herbster and he owned the general store with Ervin DeGiacinto called D&H Sales. He did the book work in the business and Ervin was the front man and the butcher. It was a thriving store and they sold everything from food to hardware of every type. Elma's two sons, Virgil Jr. (Bud) and Gerhardt (Gary) Glass bought the store and they also sold Polaris snowmobiles. However, at the time they purchased the store was the time when people became more mobile and would travel to Washburn or Ashland to buy groceries on sale at a cheaper cost. As a result, the store closed.
Albert was the first fire chief in Herbster and was directly responsible for purchasing the first fire truck for the town. Ed Puig (Eva's husband) became the fire chief after Albert as well as the fire warden.
Elma resided in Chicago with her husband Virgil Glass. They took their kids, Virgil Jr. (Bud), Iva (Morelli) and Gerhardt (Gary) to visit the Farm in Herbster every summer and over Christmas and Spring break holidays—whenever Elma could get away. Virgil worked on the railroad in Chicago so the family was able to travel on the train from Chicago to Ashland very often.
Henry and Gerhardt drowned while fishing on Lake Superior on March 30, 1931. Only one of their bodies was ever discovered and that was a few weeks after they drowned. I'm not sure which one. Gerhardt and Elma were very close and it was very hard for her. She was in college at UWS at the time and it was the day before her birthday which was March 31.
Ted and his wife, Millie, never had any children and they moved in with Sofia (or Aiti which means "mother" in Finnish but all of us called her that). Aiti passed away and Ted and Millie lived in the house. Ted passed away next and then Millie got the house. Since they didn't have any children or a will, the house went to Millie's two single sisters who sold it along with all the contents.
1910 Federal Census:
Henry Hill, 25 years, born 1885, year of immigration 1905, occupation "laborer"
Mary S. Hill, 30 years (this was actually Maria Sofia Hill)
Henry Albert Hill, 4 years old
Gerhardt W. Hill, 2 years old
Theodore J. Hill, 8 months old
The Henry & Sophia Hill family of Herbster, Wisconsin Per the 1920 Census:
Shown living in Clover Township (Herbster), Bayfield County, WI
Family included:
Henry Hill, 35, Naturalized 1918, could read and write English, occupation "Farmer"
Sofia Hill 42 [b. 1877, d. 1955]
Albert Hill 13
Gerhardt Hill 12
Theodore Hill 10
Eva Marie Rachel Hill 8 (born 1912)
Elma Elina Hill 6 (born 1913)
Per the 1930 Census:
All of the above, minus Henry A. Hill.
According to the 1920 census, the Hill's neighbors were as follows:
To the immediate west:
On 20 Acres
Paul Heinonen, aged 37,
Hilma Heinonen, aged 39 (Wife)
Evin Heinonen, 21
Ewald Heinonen 17
Signa Heinonen 15,
Eleanor Heinonen, 7 - Eleanor became a teacher like Elma and was Elma's best friend growing up
To the immediate East of the Hill Farm:
Gurt Riipi (Male), 53, Finnish, on 40 acres
Dennis Daly, 68, Born in Wisconsin to Irish parents, on 80 acres
Other residents of nearby farms in 1920:
John Wrshen, German
Leo Shumers, 38, from New York
Alonzo Uellelhomn, from Illinois (of German parents), 29
Krent Knutson, 45, Norwegian
J.J. Cambell, 58, born U.S.
E.R. Phillips, 26, from Illinois (of English parents)
Nels Eastman, 51, Swedish
Robert Williamson, 42, from Illinois (NY parents)
Alex McDonald, 67, from Canada (of Scotch parents)
Syvester Biola, 40, Italian
Matt Leppala (brother to Sofia) had his homestead on the corner of Bark Point Road and Dingman Road.
Herman Luoma's homestead was directly across the street from Sofia and Henry on Hwy. 13.
See more photos of the Hill Family and the South Shore on Pinterest
Visit Lake Superior South Shore's profile on Pinterest.