DeGiacinto, Charles and Paulina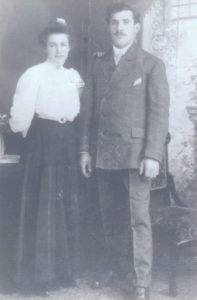 DeGIACINTO, CHARLES AND PAULINA
Everyone called her "Grandma D" and some people might not even have known Paulina's last name was DeGiacinto. The DeGiacinto family claimed Herbster as their home in 1921. They came to Herbster to become landowners and raise a family. The DeGiacintos continued to live in Herbster and became a positive influence in developing business in the community.
Charles DeGiacinto and Paulina Barzan were both born in Clough, Italy. Chares in 1887 and Paulina in 1889. They came to America in 1905. The couple settled in Chicago, Illinois and married in 1908. They had four children: Mary (born in 1908), Ervin (born in 1913), Bruno (born in 1916), and Albo (born in 1918).
Charles purchased property in Herbster in approximately 1919. In 1921, the DeGiacinto family arrived by train at the railroad stop on Lenawee Road. After a long twelve-mile trip, they arrived at their property which is located on Nicoletti Road. Paulina had no idea that their homestead was a wooded wilderness. She often talked about how surprised and disappointed she was when she realized where she would be living. She couldn't believe what she had given up in Chicago to make this life-changing move.
Charles DeGiacinto built a tarpaper shack as their first home. This would have to be sufficient until they were able to build a better structure. Charles went back to Chicago in the winter to work for Pullman Railroad. By working in Chicago, he could save money to build a better house in Herbster.
It did not take long for Paulina to realize the weather would be a major factor in making life difficult. The winter storms buried the property in snow and "Grandma D" had to learn how to use skis for the first time in her life! She often talked about how she would make the hard trip to get the mail. It was very difficult, but the letters from Chicago gave her the encouragement she needed to make it through the winter!
In the spring of 1922, Charles cleared land and built the farmhouse that is still standing today. The family raised chickens and dairy cows and had horses to help do the work on the farm. They also grew fields of grain. One blessing the family received was finding that they had a flowing well on the farm. It saved them the time and money of drilling a well.
Charles went back and forth to Chicago to work for a few years but eventually was able to move to Herbster permanently. He farmed the land he loved until he died in 1940. Paulina was well known in the community for her Italian cooking. "Grandma D" opened her home to everyone and always had a glass of wine, food, and plenty of good stories to share. She attend worship each Sunday at the Herbster Catholic Church. A rosary was always by Paulina's bed and her faith in God kept her strong as she faced not only losing her husband at an early age, but also losing three of her four children before she died at the age of 97. She got her wish to live on the original homestead until her death in 1987.
Three of the four DeGiacinto children remained in Herbster. Mary married August Luoma and raised seven children: Leonard, Leslie, Alina, Esther, Margaret (Kookie), Lawrence and Lee. Mary was the switchboard operator for the local phone company for several years. Gust worked on the county road crew. Mary died in 1971.
Albo married Pearl Moran. Pearl had three daughters (Judy, Kathy and Linda), and they had one daughter together, Melanie. Albo and Pearl purchased the tavern in town that had been damaged by a fire. After an extensive renovation, they opened the Vista del Lago. The restaurant and bar was well known for its Friday fish fries! Albo and Pearl ran this successful business until shortly after Albo's death in 1985.
Bruno was the only member of the DeGiacinto family that moved out of the area. Bruno married Maurine Gross and had two children, Charles and Linda. He owned farms and oil wells in southern Illinois and also worked with the power company in the area. He lived in Illinois until he retired in Florida. He only returned to Herbster for short visits and died in Florida in 1999.
Ervin married Florence Tennyson and had two daughters, Jackie and Jill. Ervin lived in Kerrick, Minnesota for a short time where he gained experience in running a grocery store. In 1945 he purchased the Herbster grocery store from William Hendrickson. The store was severely damaged due to an electrical fire in 1957. Ervin rebuilt the store and updated it to better serve the community. He also was the local plumber, repairman, appliance salesman, etc. Everyone called Ervin first when they had a problem or needed to make a purchase. He often opened the store on Sundays or evenings if someone called. He was very active promoting activities for the town and wanted Herbster "on the map." Ervin worked on the volunteer fire department and loved to play on the local baseball team. He was an active member of the Catholic Church in Herbster and believed the church played a key role in building a strong community. Ervin died in 1969.
Charles, "Grandma D" and the DeGiacinto family played an important part in the development of Herbster. They supported the businesses, local schools, volunteer organizations, and churches in town. As new generations are born into the DeGiacinto family, they also travel to Herbster and are grateful for the opportunity to add their mark on the history of Herbster.