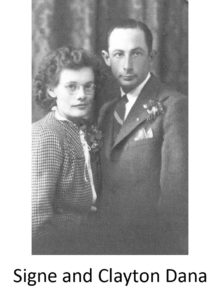 DANA, CLAYTON AND SIGNE
Signe was born on July 23, 1919 to Charles and Marie Forsberg in Herbster. She went to Ashland County Normal to become a teacher and taught school in Herbster for a time.
She married Clayton Dana on June 22, 1946. He was born in Iowa and had served in North Africa and Italy during World War II. They had a dairy farm on Bark Point Road and later on Lenawee Road.
When Clayton died in 1969, Signe sold her farm and bought 5-1/2 acres from her cousin, Arvid Forsberg on Bark Point Road. She was Town Clerk for many years. She was feisty and witty, never forgot a birthday and despite all, did not feel sorry for herself. She always had coffee or juice, hardtack and cookies for visitors. She was known for her delicious buns and cinnamon rolls, as well as the beautiful patterns she would knit into mittens and socks. She taught every dog she ever owned to "whisper."
Signe lived into her eighties, she had cancer and Alzheimer's and was cared for by Sandra and Fred Faye's family at their home. She died in the spring of 2000. Fred Faye passed away in November of 2000 from a heart attack.
Following is a poem Signe had written while in school:
Life's Highway
They say that life's a highway
Its milestones are the years,
With now and then a toll gate
Where you pay your way with tears.
It's a rough road, a tough road,
It stretches broad and far
But leads at least to a Golden Town
Where Golden Houses are.