Christenson, Andrew and Mary
CHRISTENSON, ANDREW AND MARY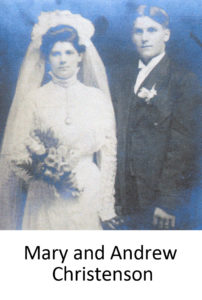 Andrew Christenson 1888-1953
Mary (Peterson) Christenson 1888-1980
Andrew Christenson and Mary Peterson were both born in Copenhagen, Denmark. In 1907 they met on a ship as they were both bound for Chicago. They married and had two daughters, Rose (1910) and Violet (1915), while in Chicago. In 1917, Andrew and his family moved to Orchard Valley (Herbster), WI, along with Carl Sorenson's family. Andrew bought property on Bark Point from the Frederick Bartlett Land Company. Andrew and Mary made a life there with their daughters, farming the land, selling produce and berries in the summer, and selling firewood in the winter. They loved the beautiful views on Bark Point. Mary kept a beautiful flower garden, as did most of the women along Bark Point. Mary also talked of helping the women of Bark Point with newborn babies. Andrew died in 1953. Mary moved to Illinois and remarried. She moved back to Herbster in 1977. She lived with her granddaughter, Margaret (Larson) Truchon until her death in 1980. She was 93 years old.
(Mary lost some furniture her father tried to send her on the Titanic.)
Rose Christenson married a Suominen. They resided in Maple, WI and had one child, Arnold. After her husband died, she married Jack Jerpy. They had two children, Jim and John. They lived in Superior, WI.
Violet Christenson married Victor Korppas. Victor had two sons from a previous marriage, Vyron and Leo. They lived on Bark Point. In 1936, Violet and Victor had a son, Victor (Bud) Allen. Victor (the father) died in a hunting accident. Violet then married William Larson in 1940. They had three children together: John, Fred and Margaret.
Leo Korppas died on July 30, 1944 on the shores of France during WWII. He received a purple heart for his service. The VFW Post in Port Wing is dedicated in his honor (Korppas-Johnson Post).