Winturri, Matti and Anna Emilia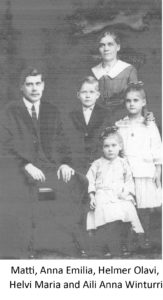 MATTI AND ANNA EMILIA WINTURRI
Matti Winturri, his wife Anna Winturri (Karialinen) and family (three children) came to Herbster in 1921 and settled on 10 acres, next door to Anna's brother Jacob Kivisto.  Matti and Anna immigrated from Seinajoki and Kaustinen Finland in the early 1900's and settled in Fitchburg, Mass. They worked in the textile mills and had two children.  In 1912, Anna had the two children returned to Finland for a visit. While in Finland, another child was born (Aili). In 1917, Anna and her three children returned to Mass.  In 1921, the family moved to Herbster where Anna's brother Jack Kivisto was living.
The Winturri children were as follows:
Helmer Olavi—lived at the home place and never married. He was a jack-of-all-trades and master of most of them.
Helvi Maria—married Eino Okkonen and lived in Herbster on the Bark Point Road and had three children. Wilho (married Hazel Butler and had two sons).  Louise (married Wendell Martin and had three sons). Arnold (married Sharlene Voelker and had one son).
Aili Anna—married William Luoma, lived in Herbster on the Bark Point Road and had one son. Arne (married Marlys Johnson and had four children, two sons, and two daughters).