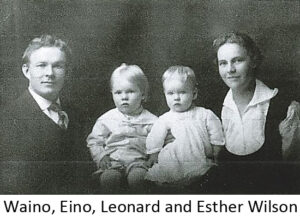 WILSON, WAINO AND MARIA ESTHER
Waino Wilson (Vaino Mattila) was born in Vammala, Finland, to Ville and Vilhelmiina Mattila in 1889. As a young man, after returning home from working in the forest, he declared, "Enough, I am going to America." He left Finland in 1907. Soon after that, he changed his name to Waino Wilson.
Maria Esther Okkonen was born in 1894 in Ely, Minnesota, to Matti and Maria Okkonen. Her parents were from Luma Joki, Finland.
Waino and Esther met in Cloquet, Minnesota. They married in 1912. In 1913 their son Eino was born, followed by son Leonard in 1914. After a few years, they bought the Rippi farm in Bark Point, Wisconsin.
When the 1917-1918 influenza pandemic hit the area, Waino and Esther became very ill. The doctor from Iron River came by horse and sleigh. Sons Eino (4) and Leonard (3) did not get sick. Eino Okkonen helped by taking care of all the farm animals. He also caught the virus. Fortunately, all of them survived.
In 1919 Waino worked as the manager of the Farmer's Co-op Store on the Point. On the farm he raised strawberries. Some of those berries went to President Calvin Coolidge when he was on a fishing trip to Brûlé River in 1928.
In 1930 Waino became a commercial fisherman. He and his brothers-in-law, Uno and Eino Okkonen, built the boat Bark Point. He fished with them for several years. In 1955 the boat was made into an onshore cabin by his son-in-law, Bill Roman. It is on Blueberry Lane west of Cornucopia.
Esther was busy raising their growing family. They had three more children: Laila, Ernest, and Leo. She took care of the housework and some farm chores. Esther loved flowers and planted lots of them around their home. Fun times were going to events at the Finnish Hall, picnics and visiting family and friends.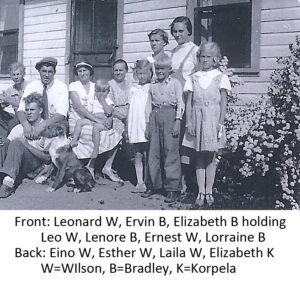 Sons Eino and Leonard did not speak much English when they first went to school. They only went through the sixth grade. Working with their dad came early. Waino and his sons helped build their boat, the Liberty in the 1930's. It was the third in size in the vicinity: 11' 8" wide, keel 10' 11" in width and 36' in length. One day while pulling up nets or set lines in the fog, they were hit by a ship, The Harvester, which carried coal from Duluth. It measured 545' LOA, 521' LBP, 58' beam and 31' depth. The Liberty was fairly new then. There was some damage to the boat but no one was seriously hurt. Waino sued the company and the jury awarded him a large amount. The judge, however, reduced it substantially.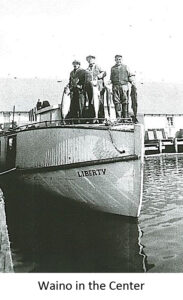 Esther was known as a very good person and hard worker. While getting hay in the loft for the cattle, she stumbled and hurt her knee. In the winter she fell again while going to get water from the bay. Esther developed cancer in her leg. She had an amputation, but the cancer had spread to her lungs. In 1933, at the age of 39, she died.
Laila was 15 when their mother passed away. She quit school and took over running the household and caring for the younger brothers, Ernest and Leo. The boys finished school, went into the service, and helped their dad in fishing.
In 1938 Leonard married Effie Gidlof; Eino married Rose Puig in 1939; Laila married Bill Roman and Ernest married Alice Bruneau. Leo married Alice after Ernest died in 1962. All of the sons became commercial fishermen. Eino and family moved to Crescent City, California, in 1944. All of the siblings eventually followed. They fished for salmon, crabs, and tuna. Three of Waino's grandsons also became fishermen. Bill and Laila owned the gas station in Cornucopia.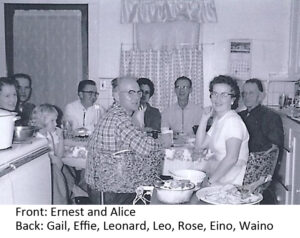 Waino married Toni Klienhans, but that ended in divorce.
Waino sold his boat, the Liberty, and his property in the 1950's. The boat is on display at the Cornucopia harbor. Stewart Brent, a bookstore owner, author, and television personality from Chicago, bought the house and land on the Point.
In his book, "The Seven Stairs," Brent describes Waino on their first meeting, "...I looked around and observed a man working in a field not far from the road. He wore a battered felt hat, a shirt open at the neck, heavy black trousers supported by suspenders, and strong boots. His eyes were sky blue and his weathered skin, brown as a nut, was creased in a myriad of wrinkles on the neck and about his eyes.  ...his manner was cheerful and friendly. He was preparing his strawberry field for the next year." Over the years Waino and Stewart became good friends.
Waino would visit the Wilson clan in Crescent City. He helped Leo build fence and trim trees on his land.  He built a skiff for Eino, with which grandson Bill got to assist. He chopped wood for the family. Grandchildren called Waino wonderful. He would play cribbage with them for hours, play horseshoes, and take them for boat rides. He loved watching old cowboy movies and playing cards with the family.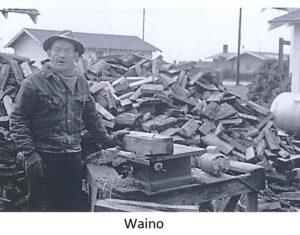 Waino lived with Laila and Bill in Cornucopia in his later years. In 1965 he died of cancer. The Roman's then moved to Crescent City.
Wilson clan:
Eino & Rose Wilson...Children:  William (Bill) and Linda
Leonard & Effie Wilson...Children:  Margaret, Leonard (Bud), Myrtle, Lee and Gail.
Laila & Bill Roman...Child: Bill
Ernest & Alice Wilson...Child: Ernest Lee
Leo & Alice...Child: Thomas