Vietmeier, Henry and Anna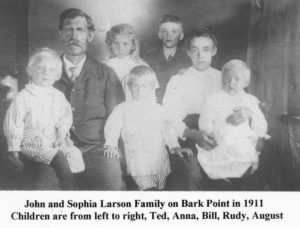 HENRY AND ANNA VIETMEIER (LARSON)

John Larson, Anna's father, was born in Kumla, Sweden in 1860. He had two brothers, Erick and Louis, and one sister, Anna Marie. Louis changed his last name to Moren when he came to America. Erick and Anna stayed in Sweden and had a large family. Erick's family, Carl, John, Gerda and Gust came to the Herbster area around 1915, and later. They all changed their last name to Erickson, which was customary in Sweden (Erick's Son). John Erickson was known as "Man Mountain" and was a heavy weight boxer.
John Larson, came to Herbster area in 1892 and built a log home on Bark Point on the bay side. In 1904, he married Sophia Forsberg. Sophia was born in Vasa, Finland in 1875 as Sophia Kaupi. Her first husband, Isac died in 1903 in the Herbster area. In 1905, Anna Larson was born in their log house on Bark Point, the first of nine children. There were eight brothers; William, Theodore, August, Albert, Arthur, Albin, Walter, and Herman. In 1916, they moved to Cornucopia, settling on a large dairy farm. The John Larson family farmed that land, and when Mr. Larson passed away, his widow took over the farm with the help of her older sons.
Anna Larson finished her teacher's training at Superior State Teacher's College in 1926, and was a teacher in the Cornucopia School before her marriage and until she became a mother. In 1937, she married Henry Vietmeier at the church he and Herman Ehlers helped build the same year. Their wedding was the first in Immanuel Lutheran Church in Cornucopia, WI. In 1941 Emeline was born, Waldemar in 1943, and Hildegard in 1944.
Henry was born in Snyder, NE in 1889 to Aline and Frederick Vietmeier, a family of eight children. He worked as a carpenter in Chicago until 1930. When the depression came he moved to Herbster, purchased land that had all the big pine logged off on what is now Bark River Road and began clearing for farming. The pine stumps were removed with dynamite. It was a slow process but there were other families doing the same process and they worked together. He built a house ordered out of The Sears Roebuck catalogue.
The neighbors to the south were the Lamkens and to the north were the Walters. They were small scale dairy farms. Henry also raised chickens and sold eggs. His Model A Ford was used for everything from the honeymoon trip to pulling the hay wagon and grinding feed for the cows, and flour for bread; jacking up one back wheel removing the fender and pulling a belt around the wheel and on to the grinder which was mounted in feed bin.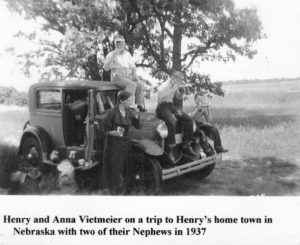 There was always music in the farm house. Henry liked to play the violin that he ordered in Germany and have the children sing German songs that he taught them. Anna learned music through a correspondence course from New York and Hildegard and Emeline learned to play the piano.
Henry Vietmeier farmed on small scale until shortly before he passed away in 1973 and Anna Vietmeier lived on the farm enjoying gardening and reading until 1985. She passed away in 1990.
Contributed by Waldemar, Hildegard, and Emeline Vietmeier