Sorensen, Karl and Johanna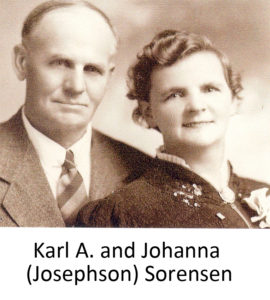 KARL A. AND JOHANNA (JOSEPHSON) SORENSEN
Karl was born in Denmark in 1887. When he was 17, he was in the Danish Army in Copenhagen and served in the Kings Royal Guard for five years. He was engaged to Johanna who was born in Skive, Denmark in 1894. They decided to live their life in the United States. Karl traveled by boat to America in November, 1911. Johanna followed him in May of 1912 and celebrated her 18th birthday during her boat trip to the United States.
They married in Chicago and lived there five years before purchasing 80 acres of land in Orchard Valley from the Frederick Bartlett Land Company. In the spring of 1917, they traveled by train to the Lenawee Station then by horse and wagon. They arrived with two sons, Einar and Victor. In the years to come, their family grew larger with Arthur, Esther, Walter, Eva, Carl, Gladys and Robert. Their home was a short distance from Herbster on the Lenawee Road and East of the Cranberry River.
They made their living raising chickens and selling eggs which were delivered to Bayfield and Ashland. They also had a large strawberry business which required pickers from around the area. Karl was given the title of "Strawberry King" of Bayfield County during the years that thousands of crates of berries were raised on their farm. After the picking season was done, all the pickers were invited into their home for strawberry shortcake and to get paid. Johanna was known for her Danish pastries and candies.  Karl served as clerk     of Clover Township for over thirty years.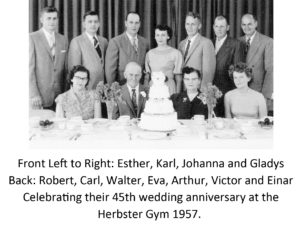 In 1957 they celebrated their 45th wedding anniversary and had a family reunion in the Herbster gym. Then in 1962 they celebrated their 50th wedding anniversary in the gym again. Karl passed away in 1965 and once again Johanna followed him in 1972. There was a Sorensen reunion in July, 2001 at the Herbster gym. The sons have passed away and the three daughters live in three different states. The next generation of 34 grandchildren added many great and great- great grandchildren to the family.  Some still live in the area and some live throughout the United States.